By EDRi.org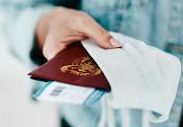 In EDRi's series on COVID-19, COVIDTech, we explore the critical principles for protecting fundamental rights while curtailing the spread of the virus, as outlined in the EDRi network's statement on the pandemic. Each post in this series tackles a specific issue at the intersection of digital rights and the global pandemic in order to explore broader questions about how to protect fundamental rights in a time of crisis.
In our statement, we emphasised the principle that states must "defend freedom of expression and information". In this fourth post of the series, we take a look at the issue of immunity passports, their technological appeal and their potentially sinister consequences on social inequality and fundamental rights The dangerous allure of science fiction Early in the coronavirus outbreak, pandemic guilty-pleasure film, Contagion, skyrocketed to the top of streaming sites' most watched lists. One of the film's most interesting plot points (mild spoiler alert) is the suggestion of a simple form of immunity passport.
Wristbands for people who have been vaccinated are presented as an obvious solution – and why wouldn't they be? Various forms of immunity passport are a compelling idea. It sounds as if they could allow us to get back to a more normal life. But the reality is not as clear-cut as in the movies, and the threats to how we live our lives – in particular, the people that could be most harmed by such schemes – mean that we must be incredibly cautious. Consequently, as it stands now, the lack of evidence, combined with the size of the threat that these schemes pose to fundamental rights and freedoms, reveal that - digital or otherwise - immunity passports must not be rolled out.
Immunity passports – science fact says "no" In the last few weeks, "digital immunity passports", certificates, apps, and other similar ideas have become prominent in discussions about how to exit from global lockdowns, with proposals popping up in Germany, Italy, Colombia, Argentina and the US to name a few. It is a legitimate policy goal to help people find safe ways to exist in this "new normal."
Yet these proposals are all founded on the dangerous fallacy that we know and understand what coronavirus "immunity" looks like.
The WHO have been clear in their assessment that there is "currently no evidence" for immunity, and that such schemes may in fact incentivise risky behaviour. Medical journal The Lancet adds that such proposals are "impractical, but also pose considerable equitable and legal concerns even if such limitations are rectified." And science journal Nature warns that immunity passports can actually harm public health. If public health experts are warning against immunity passports – even once we know more about COVID-19 immunity - then why are governments and private actors still pushing them as a silver bullet? Like with controversial tracking and contact tracing apps, there are a host of privacy and data protection concerns when such schemes become "digital". Individual health data is very sensitive, as is data about our locations and interactions. As it is often with private companies that are aggressively pushing proposals (hello TransferWise and Bolt in Estonia), there are serious concerns about transparency, accountability, and who really benefits. EDRi has warned that public health tools should be open for public scrutiny, and limited in scope, purpose and time.
With private companies rushing to profit from this crisis, can we be confident that this will happen? The lessons learned from digital identification programmes suggests we have reasons to be very sceptical.
A new generation of "haves" and "have nots" The crux of the problem with immunity passports is that they will likely be used to decide who is and who is not allowed to participate in public life: who can go to work – and therefore earn money to support themselves and their family; who can go to school; and even who can stay in hotels. By essence, these "passports" could decide who can and who cannot exercise their fundamental rights.
As both Privacy International (PI) and Access Now explain, the law tells us that any restrictions on people's rights must be really well justified, meeting high levels of necessity and proportionality, and must also have a clear legal basis. These criteria mean that measures that limit people's rights must be demonstrably effective, have no viable alternative, not violate the essence of fundamental rights and have clear safeguards. This is a very high set of criteria that need to be met. In the context of an absence of scientific proof, significant risks created by false positives and false negatives and big concerns about data protection and privacy, the idea of digital immunity passports becomes even more sinister. This hasn't stopped tech companies like Onfido lobbying their national health services or governments to adopt their services for biometric immunity passports.
Biometric surveillance and the risks of hyper-connected data In a wider sense, digital immunity passports – especially those linked to people's sensitive biometric data – are part of a growing mass surveillance infrastructure which can watch, analyse and control people across time and place. Such systems rely on holding mass databases on people (which in itself comes with big risks of hacking and unauthorised sharing) and are damaging to the very core of people's rights to dignity, privacy and bodily integrity. The combining of health data with biometric data further increases the ability of states and private actors to build up highly detailed, intrusive and intimate records of people. This can, in turn, have a chilling effect on freedom of expression and assembly by disincentivising people from joining protests, suppressing political opposition, and putting human rights defenders and journalists at risk. As Panoptykon Foundation have explained, such systems are ripe for abuse by governments looking to control people's freedoms.
Discrimination and unequal impacts creating a segregated society It is foreseeable that the introduction of immunity passports will have unequal and disproportionate impacts upon those that already face the highest levels of poverty, exclusion and discrimination in society.
Those with the smallest safety nets, such as people in precarious and low-waged jobs, will be the ones who are least able to stay at home. The pressure to be allowed outside – and the impacts of not being allowed to do so - will therefore be unequally distributed. We know that some people are more at risk if they do contract the virus: those with underlying health conditions, older people and in the UK,black people.
This inequality of who suffers the most will replicate the already unequal distribution in our societies. And if immunity passports are administered digitally, then those without access to a device will be automatically excluded. This stratification of society by biological and health characteristics, as well as access to tech, is dangerous and authoritarian.
Don't let science fiction become reality Digital immunity passports are no longer the preserve of science fiction. There is a very real risk that these schemes are putting innovation and appearance over public health, in a move often called "technosolutionism". Digital and biometric immunity passports not only threaten the integrity of our sensitive bodily and health data, but create a stratified society where those who can afford to prove their immunity will have access to spaces and services that the remainder will not– de facto becoming second class citizens. The New York Times calls this "immunoprivilege."
When the time comes that we have solid scientific evidence about immunity, it will be up to public health officials to work out how this can translate into certification, and for data protection and privacy authorities and experts to help guide governments to ensure that any measures strictly respect and promote fundamental rights and freedoms.
Until then, let's rather focus on improving our national health systems, ensuring that research goes into preventing this and future pandemics (despite the push-back from Big Pharma) and that we build a new society free of virus such as COVID-19 and surveillance capitalism.
Read more: