THE NUMBER ONE DIRECT NEWS INPUT LOCATION

Direct input features

You Can Almost Count on Each New Mass Shooter Being a Veteran
02 Jun 2019; posted by the editor - Features, International, United States
By David Swanson
"He enlisted in the Virginia National Guard in April 1996, according to spokesman A.A. Puryear. He was assigned to the Norfolk-based 1st Battalion, 111th Field Artillery Regiment, 116th Infantry Brigade Combat Team as a 13B cannon crew member. He was discharged in April 2002 and held the rank of specialist at the time, the spokesman said. His records did not indicate overseas deployments." -CNN on latest mass shooter
Tags:
---
Humanitarian Aid Blocked from Entering Venezuelan Embassy in Washington D.C.
09 May 2019; posted by the editor - Features, Human Rights, Journalism, United States, Venezuela
By David Swanson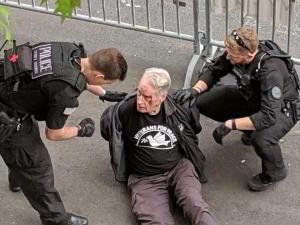 Two months ago, I heard a story. You heard it too, if you went anywhere near a television or a newspaper in the United States. The government of Venezuela needed to be overthrown because it wouldn't allow in humanitarian aid.
---